Z7_I2A02GS029GGD06C3O4A1B1O14
AG CARS PARTNERS WITH GARDX KLEENAIR SOLUTION FOR PREVENTING THE SPREAD OF VIRUS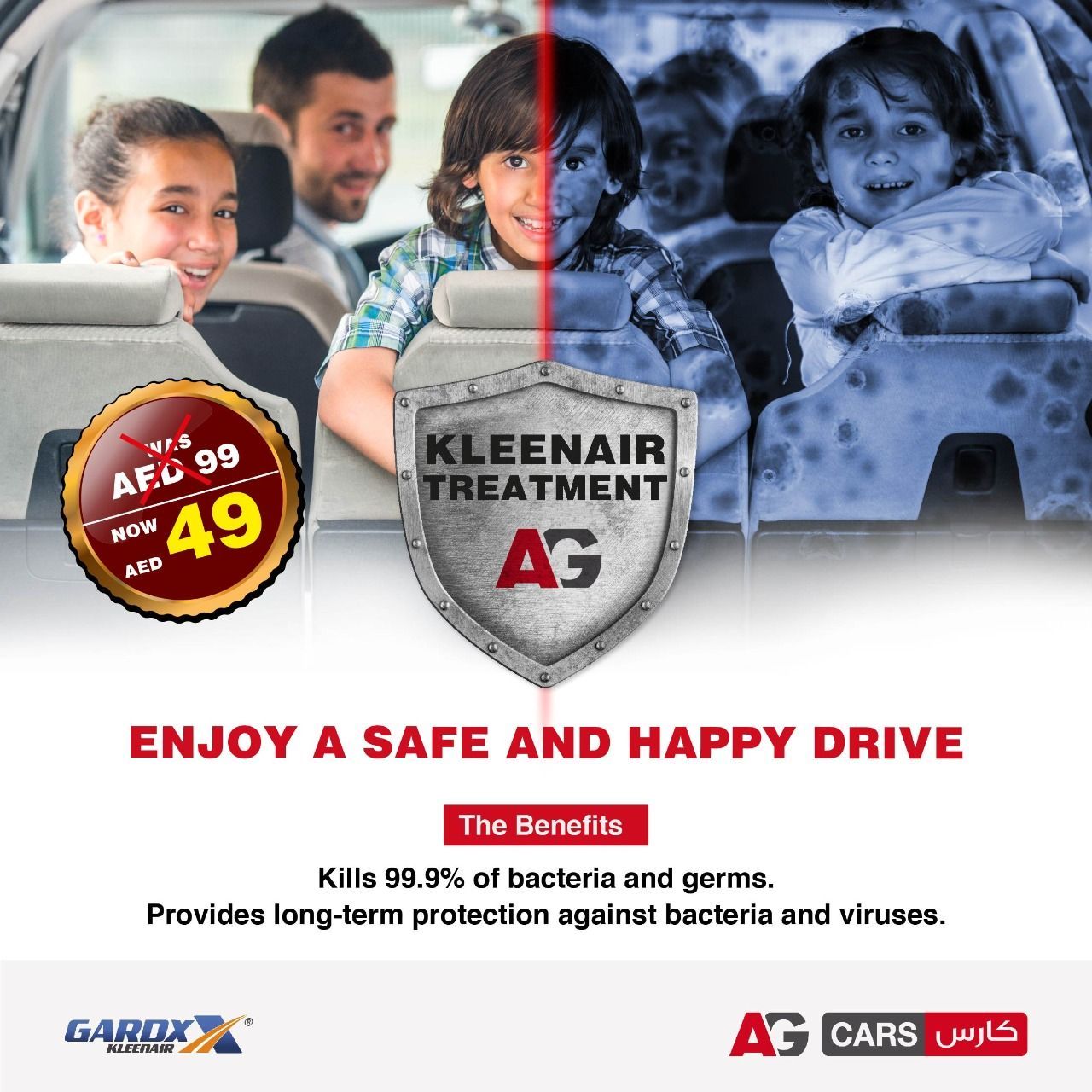 Over 93,000 cases and a death toll of more than 3,000 continue to increase with the global outbreak of the deadly coronavirus (COVID-19), which started in Wuhan China on December 31, 2019.
Companies across the globe have focused on how they can prevent and reduce the spread of virus, as the epidemic has influenced a huge number in a short span of time.
Amid the global outbreak and to help the society in combating the spread of COVID 19, AG Cars, in partnership with GardX, wants to take a step forward to ensure the well-being of its customers and their families. With the help of GardX KLEENAIR Solution, which has an active ingredient with strong anti-viral properties like sage oil, it is proven to be effective in destroying & preventing the spread of the harmful virus.
Automakers play their role in the society through innovating new technologies to control and prevent the spread of epidemic. Research has found that your car has 30,000 moulds and bacteria than the average toilet seat, which is commonly found in highly contacted areas, such as the steering wheel, gear knob, handbrakes, AC vents, and door handles. To reduce the spread of potentially harmful virus, it is advisable to have your cars cleaned on a regular basis and to have it disinfected at least once a month.
Based on the study by the American Medical Journal in Frankfurt University Hospital, the Sage Oil's antimicrobial activity has recently been described in two review articles. The raw material, the extracts and EO obtained from sage are used as herbal medicines for sanitization and disinfectant. Same way this is proven to be effective against SARS-CoV (RNA Virus) after being tested to a patient hospitalized with a diagnosis of SARS (severe acute respiratory syndrome).
"We believe that every member of the society has to contribute in preventing the spread of COVID 19, that's why we, at AG Cars, take our one step forward through educating our customers the importance of keeping their car clean through proper disinfection. We are happy to partner with GardX through offering them a KLEENAIR Treatment at AED 49 ONLY, which will be available in all our nine workshop branches across the UAE," said Mohamed Abdul Malique, Head of Operations of AG Cars.
AG Cars upholds sustainable management of our everyday business activities, through different Corporate Social Responsibilities initiatives that enhance our contribution towards our customers and the communities we serve.
About AG Cars Service Centre:
AG Cars Service Centre quality assurance can be summed up in these words: 'Best Alternate for Agency Repairs' equipped with state of the art 5S standard facilities and the Premium Multi-Brand Service Network in UAE at affordable prices. Operating in nine locations (Abu Dhabi, Al Ain, Dubai, Sharjah and Ras Al-Khaimah) across UAE.
---